Main Content
Library Updates
Help the Library – Complete a quick Questionnaire!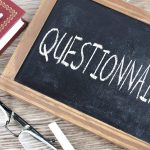 The Bloomfield Public Library is looking for your input to aid in planning future library services. Please help us by completing a brief questionnaire with your thoughts, opinions, and views regarding the services the library has provided since reopening after the COVID-19 shutdown. Your responses will be used to help influence goal development as the library plans for the future. Responses will be anonymous and no identifying information will be published or used beyond the scope of this …
The library is open!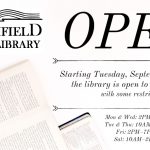 We would like to welcome you back to the library! Starting Tuesday, September 8, 2020 the library will be open to the public, with some restrictions. Appointments are no longer necessary to browse our shelves, use the public access computers, or use the copy/fax machine. We do require that you adhere to the following during your library visit, to help keep our patrons and staff healthy and safe: Wear a mask or face coveringUse the hand sanitizer in the lobby, before …
Reopening Information
Hello Bloomfield Community! The return of library services has begun! We are very excited to begin the process of returning library services. With the health and safety of our patrons, employees, and the community as our top priority, we are putting in place specific precautions and measures based on guidance by the CDC and New York State's reopening regulations, as referenced in "NY Forward. We are also returning the library collection to our shelves, as items were temporarily …